A theme we have been seeing around the place in both domestic and commercial applications is the use of brick prints. These days it is quite difficult to come by brick and when you do it's in a specific room. Sometimes you may want a brick look in the bedroom not the dining room. The benefit of wallpaper is you can apply it in any room and tie in your interior style to suit.
There are multiple styles you can play with when looking at a brick look. A great aspect about Custom Wallpaper is the ability to upload your own image. If you don't have one, fear not as we have a library of brick designs here.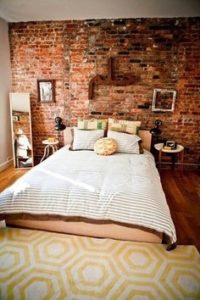 Traditional brick
So you appreciate a traditional looking brick wall. Perhaps deep terracotta – the tone that reminds you of your childhood home. An interior filled with timber finishes and pops of colour. You may be looking to focus your room on a retro design. Dark brick tones are perfect to create a warm, cosy and homely feel.
White brick
Love the brick look but also love a monochromatic life? You see the benefit of wallpaper is that you can have the best of both worlds. White bricks look quite effective when wanting to 'jazz' up your already incredibly pale interior. It adds texture without disrupting the strategic lack of colour. You can create the much sought after 'dishevelled' look with a quick peel and stick application.
Rustic brick

This style is basically the rustic version of the tradition brick. When considering this style you're saying you don't care too much for clean lines and symmetry. You love the look and aim to create a warehouse feel. Perfect for those who are a touch adventurous.
The ease of wallpaper is that you can create an interior story of your choice. You can choose how to coat your walls with a finish that will tie in with your fixtures.